German Colonies
The outbreak of the war saw a wave of xenophobia sweep the nation and many Germans nationals who were considered a threat to the nation were sent to internment camps for the duration of the war.
Libury Hall. Great Munden, Ware
Libury Hall, six miles north of Ware, became the county's largest internment camp. Prior to the war's outbreak the manor house had been converted into a German industrial and farm colony to provide work and housing for unemployed and destitute German men. By 1914 7,264 German men had found refuge at the hall. It had been set up by three trustees; Baron Bruno Schröder, C.A. Bingal Esq. and Baron William Schröder, to care for German nationals who had fallen on hard times. The home was largely self-sufficient and grew its own produce on over 300 acres of land.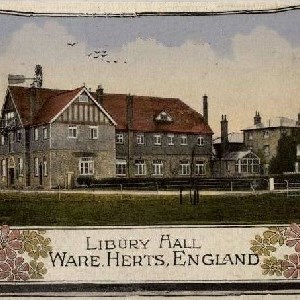 It would have therefore been a logical move that operations at Libury Hall should be expanded with the outbreak of war and during the course of the war 566 men of age 60-90 were interned in the camp. These were largely elderly and infirm men whose health would suffer if detained in a Military Camp; and the home office were happy for the management of the camp to continue much as it had in the pre-war period. The pre-war director, W. Müller remained in charge of Libury Hall under the supervision of a British commandant and an armed police guard. The police were housed in a farm cottage on the site and wrote that he assumed they would not be charged rent!
Not everyone in Hertfordshire was happy to have a German internment camp on their doorstep. A dark moment in Libury Hall's history came in June 1915 when there was, what was described at the time as, 'a disturbance in the nature of a small attack' on the site. This had been stirred up by speakers from the Anti-German League in Hertford. Reassurances were made by the authorities that the camp was safe, and a number of able-bodied inmates were moved to full internment camps. Libury Hall continued in this manner through to the end of the war. There were still 83 inmates as late as February 1920. Today the hall has been converted into a retirement home for the elderly.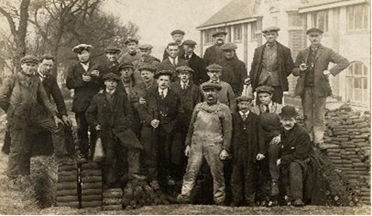 Above: A postcard and photo show life at Libury Hall prior to the outbreak of war (circa. 1910).
Other Camps
Smaller camps were also set up for work parties at Ashwell, Malting House, Baldock, Berkhamsted, Oak Hall, Bishop's Stortford, Braughing, Buntingford, Gemmaes Court, Hemel Hempstead, Hunton Bridge, Cotlands, London Colney, Napsbury War Hospital, Panshanger, Rickmansworth and New Street Farm, Standon.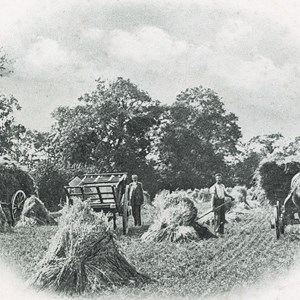 Preston Holes Farm: A small German POW Camp existed throughout the Great War in Preston, Herts. Detail about the very interesting wartime history of the camp can be found here