PLEASE NOTE: We are in negotiation to restart out regular talks, plerase bear with us while we try to do this. 
As part of our effort to provide information during COVID we partnered with Dan Hill's on line talks, the previous talks done are still available. Dan Hill's website is www.danhillmilitaryhistorian.com and those talks are still available to view under "Archive".
Our events new and old appear below. To get relevant notification of events, register for emails via Contact Us, ensuring that you use the 'check box', below "Register for General Email Communication (News, Events etc.)".
Our FREE Talks
Following COVID we hope to restart our free talks very soon!
Doors open 7pm for 7:30pm start.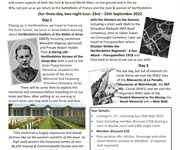 HAW Battlefield Tour 2022
The Herts at War Project makes an exciting return to the Battlefields of the Western Front with our 2022 Battlefield Tour - Our Back to Boots on the Ground Tour - a tour led by an expert Battlefield Guides and Historians: Dan Hill and Paul Johnson. The tour follows men from Hertfordshire and covers aspects of both the First & Second World Wars, on the ground and in the air. Why not join us as…