The following article is published with the kind permission of the author Terry Cox, Hertfordshire Constabulary Great War Society and Dr. F.R.J. Newman PhD - editor of Trench Foot Notes.
DURING THE GREAT WAR THE BRITISH ARMY HAD 2000 UNIFORMED MASSEUSES
Enough I know to raise the heart beat of any Tommy it is absolutely true and here is the story of these girls in white by Terry Cox
Our story begins with unusually named man Almeric Paget, born on 14 March 1861 he was the youngest son of Lord Alfred Paget. Almeric's grandfather had commanded the British cavalry at Waterloo in 1815. Naturally he was educated at Harrow then Cambridge. Let us be fair Almeric was nearly as posh as his name.
Upon leaving university he worked briefly for the Midland Railway at their headquarters in Derby before, at the age of 20, emigrating to America in 1881. He established a cattle ranch in Iowa and became a friend of Theodore Roosevelt. He then became an estate agent in Minnesota before finally relocating, perhaps unsurprisingly to New York where he enjoyed society life.
Almeric went into partnership with Henry Whitney to establish first the Dominion Coal Company and then the Dominion Iron and Steel Company. This business venture introduced Almeric to his partner's pretty niece Pauline Payne Whitney who he married in November 1895. Among the guests was the President of the United States – Grover Cleveland.
Pauline did not enjoy good health. In 1901 they moved to England ostensibly due to her poor health. They initially settled at Brandon Park House, Suffolk and Almeric was appointed High Sheriff of Suffolk in 1909.
In 1906 Almeric had stood, unsuccessfully, as Member of Parliament for Cambridge, however in 1910 he won the seat which he held until his resignation in 1917. There is no doubt Almeric was both very well connected and fabulously rich.
Pauline found that massage helped her to better cope with her ailments and she and Almeric very much believed in the benefits to be gained from this therapy. So upon the outbreak of war in August 1914 the influential Almeric popped along to the War Office and suggested they might like to set up a corp of uniformed masseuses to help care for injured Tommies. The War Office were not easily won over however they enquired of Almeric how much he thought this scheme might cost them? Almeric informed them the cost would be entirely met by himself – the War Office welcomed him with open arms and the "Almeric Paget Massage Corps" was immediately formed.
Initially Almeric recruited 50 ladies with that number quickly rising to 100. The Corp established clinics in every hospital in the United Kingdom treating injured soldiers. The Corp was managed and directed from the Paget's elegant town house at 39 Berkeley Square, London.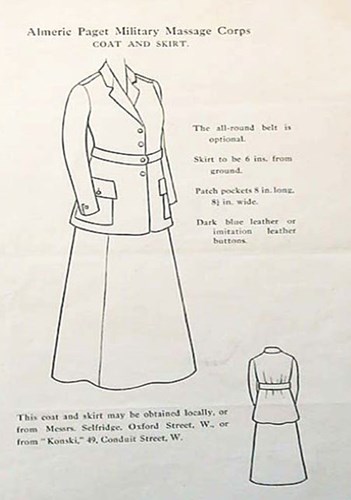 The Uniform of the Masseuses
For the avoidance of any unfortunate confusion the Corp changed its name in 1916 to the "Almeric Paget Military Massage Corp".
In November 1914 Paget founded the Massage and Electrical Outpatient Clinic in premises at 55 Portland Place, London, loaned by Lady Alexander Paget. For the duration of the First World War this clinic treated an average of 200 wounded officers and soldiers per day
The work was hard, starting at 9am with a 30 minute lunch break and a 10 minute tea break at 2.15pm. Each masseuse would see 30-40 patients per day and provide treatments that included massage, hydrotherapy, electrotherapy and "… stimulating muscles with the 'Bristow coil' or subjecting a limb to interrupted galvanism, ironization or a Schee bath, diathermy or radiant heat".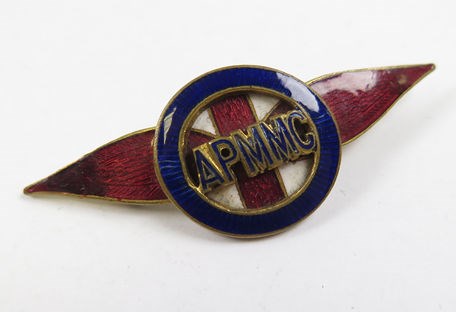 Badge of the Almeric Paget Military Massage Corp
The Paget's marriage was not an altogether happy one however they produced two daughters, Olive and Dorothy.
Pauline Paget received a large fortune from her uncle, Colonel Oliver Hazard Payne (1839-1917), one of the founders and original directors of the Standard Oil Company. Shortly before her death she divided $4,000,000 (equivalent today to £75 Million) between her two daughters - but not Almeric.
In the middle of World War I, Pauline died at Esher, Surrey, after a three weeks' illness on 22 November 1916. She was buried in the church yard at St Mary's Hertingfordbury, Hertfordshire (coincidentally the very church where my wife and I married).
In 1916 the work of the Corps was favourably inspected by Alfred Keogh, the Director General of the Army Medical Service. This inspection led directly to the Corps being asked to manage physiotherapy services in all military hospitals and convalescent camps. Convalescent services provided would be paid for by a government grant, until then the Corps and the services it provided had been privately funded by the Pagets.
Until 1917 all Corps members were UK based but from January 1917 onwards members could volunteer to work overseas and by the end of the war 56 members of the Corps had or were working abroad in Italy and France.
By 1919 over 2,000 masseuses and masseurs were at work and just under 3,400 had been engaged by the Corps at some point during the war.

The Corps came to an end in January 1919 when a formal "Military Massage Service" was formed under the auspices of the Army and Pensions Massage Association. All members of the Almeric Paget Military Massage Corps were given the option to join the new Service which was controlled jointly by the War Office and the Ministry of Pensions.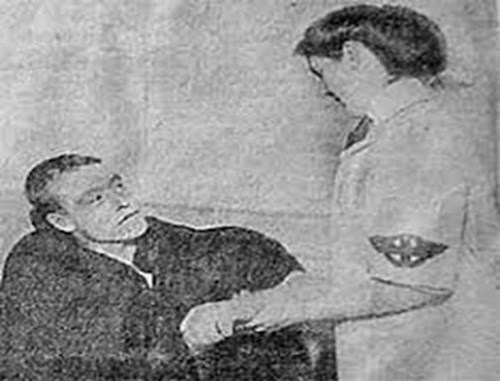 An injured soldier receiving treatment at Alder Hey Hospital
After the war, clinics were continued in the poorer parts of London, with treatment provided for all who applied.

In 1920, Almeric Paget was appointed treasurer of the League of Nations Union.
Almeric died 22 September 1949 (aged 88) in Hatfield, Hertfordshire.
A fitting local end to this amazing story!
Terry Cox - May 2018